WordPress Social Media Automation
Do you spend your 2-3 hours daily posting your website content on Facebook, Twitter, Instagram, and LinkedIn?
Do you miss out on some crucial content postings once in a while costing Branding Opportunity?
Are you lost in getting new content for your product & services?
At IPSense, the WordPress social media automation marketing agency we have a top notch solution for the above challenges.
A content management solution for WordPress websites that gives you the convenience of scheduling content on time, repeating content posting on Facebook, Linkedin, Twitter & Instagram. IPSense Consultancy brings you WordPress content management covering content sourcing, content scheduling, creatives for your brand. Businesses can outsource their content scheduling, content curation & social media impact/analytics of the posted content, and more. We offer a lot of exclusive content and more.
Automate your WordPress workflow and collaborate on content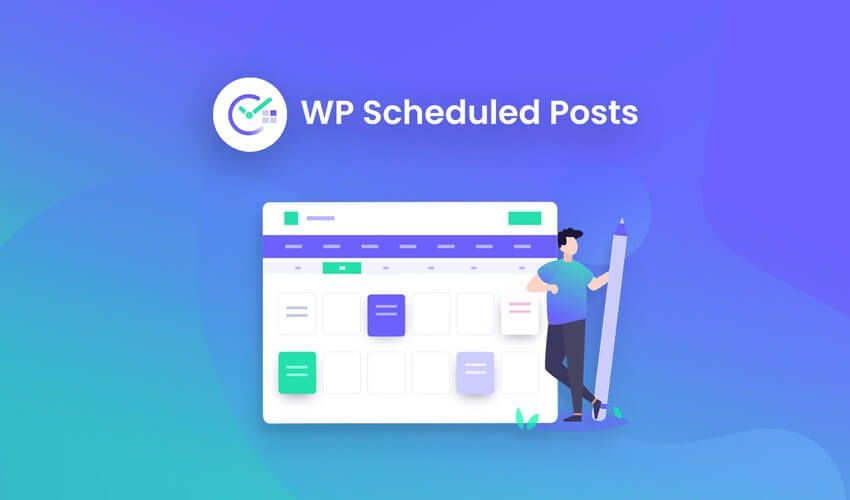 IPSense Consultancy brings this proven WordPress solution "WP Scheduled Posts" which can easily save you loads of precious time.
How?
Let's take you to do one website article every day and then you spend just about 20mins per day posting this article on Facebook, Twitter, LinkedIn. Now imagine, you don't have to do this manually anymore. The magical WP Scheduled Posts takes over the cumbersome part of sharing your article to all your social handles. We see this is a huge time saver for any serious business out there generating heaps of content week over a week.
IPSense as an official Agency partner of WP Scheduled Posts gives you this service at a one-time fee of just Rs.7000/- only.
 Read more for loads of other features and examples.
Yet when it comes to your WordPress website, you're expected to keep track of who posts what and when?
Fortunately, there's a tool to get your scheduling under control.
Plan, create and publish your WordPress posts—all in one place.
Plan, create and publish your WordPress posts—all in one place
Schedule unlimited posts and auto-share to all major social networks
Use the drag-and-drop feature to easily move and edit posts right in the calendar
Best for: Bloggers, creative teams, agencies, and small business owners who want to collaborate on content, the easy way
As your one-stop-shop for planning, creating, and scheduling blog posts on your WordPress site, WP Scheduled Posts makes it easy to stay on top of your content strategy and your content team.
Easily manage your scheduled and draft posts right from the stunning calendar (thanks to the tool's widget) and get a full view of your content in the editorial calendar.
Schedule your WordPress posts in advance and manage all authors in one place.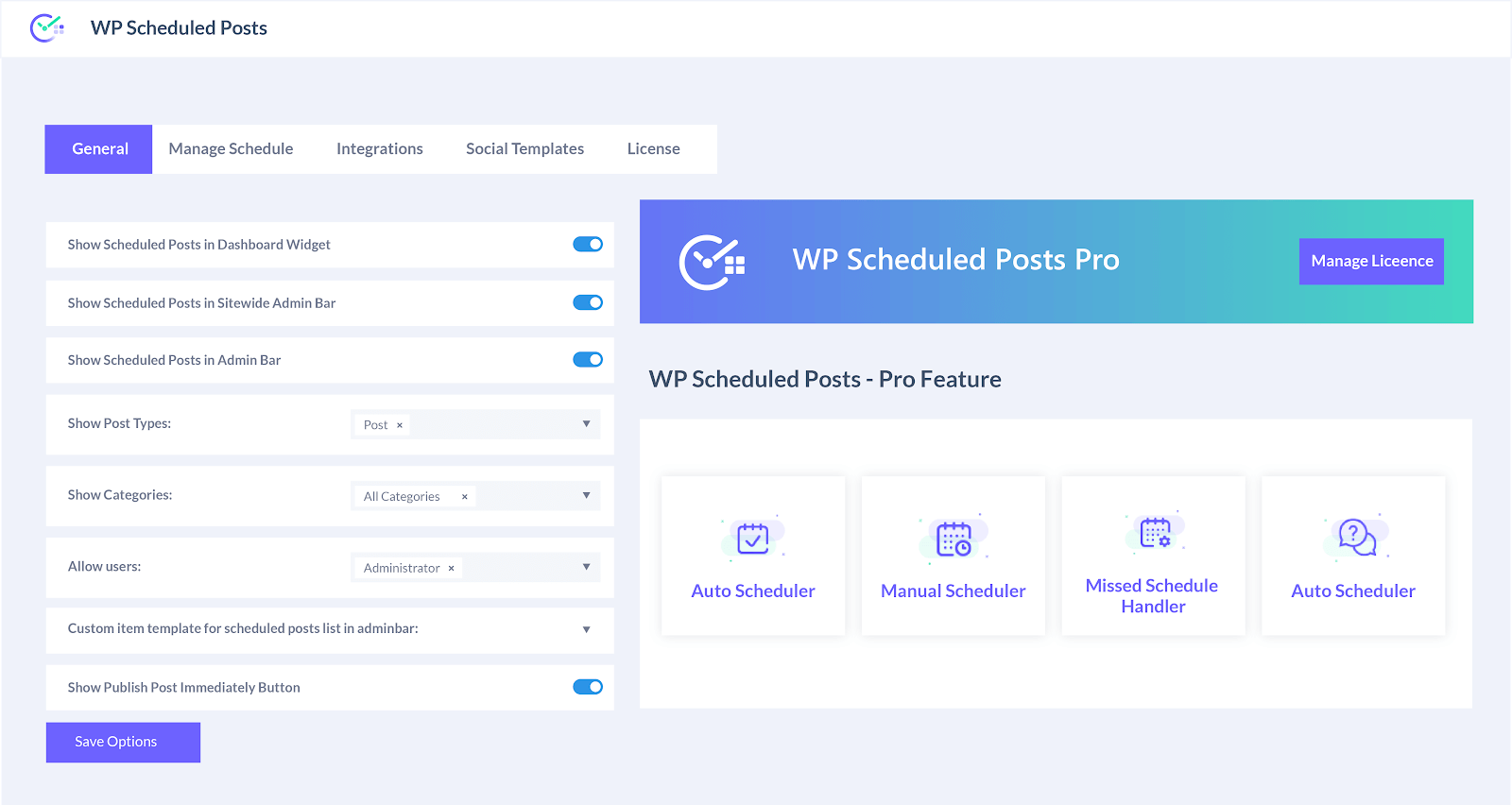 Ditch the spreadsheets and manage your posts with a convenient month-to-month look at your content.
Create, edit, and move posts easily with the intuitive drag-and-drop feature.
Forgot to add a photo to a post? Easy. Need to reschedule a blog for another day? Done
Keeping track of what and when you're posting is already complicated enough. But throw in a co-author or content team and watch things get crazy.
Whether you're flying solo or collaborating on content, WP Scheduled Posts lets you manage multiple authors all in one place.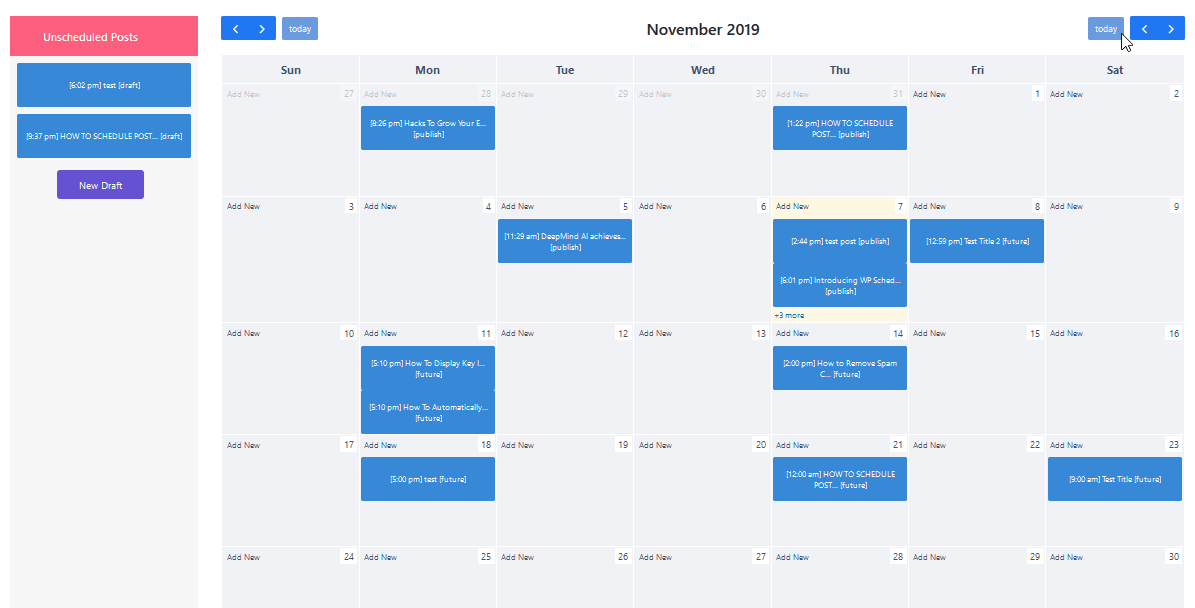 Reschedule content easily with the calendar's drag and drop feature.
Plan your content and schedule hundreds of posts ahead of time by specifying the time and date you want the post to go live.
Then just set it and forget it—WP Scheduled Posts automatically publishes it for you! Yes, you can turn off those "Post Blog #274" reminders.
Also, WP Scheduled Posts easily integrates with Twitter and Facebook.
So, once the post is live, WP Scheduled Posts will automatically share it on social media. No need for third-party websites or another tool to do the auto-sharing on Twitter or Facebook.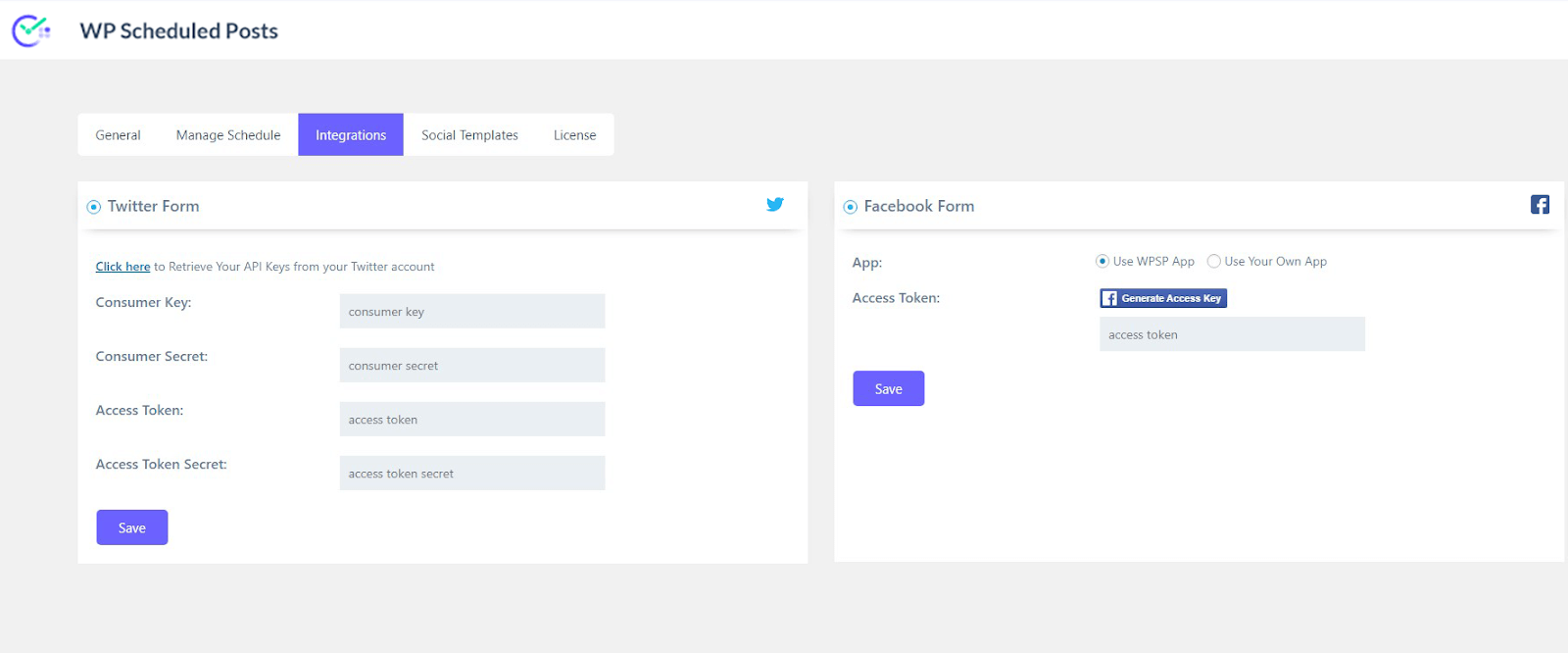 In a perfect world, scheduling a post on WordPress means that your content goes live at a designated time, every time.
In the WordPress world, it means that sometimes this happens, and sometimes you're hit with the Missed Schedule Error. Low blow, WordPress.
But now, you don't have to worry; because this plugin comes equipped with a Missed Schedule Handler that comes through in the clutch to—you guessed it—handle any Missed Schedule Errors.
Leaving you to focus on the important things, like actually running your business or going on an off-the-grid getaway.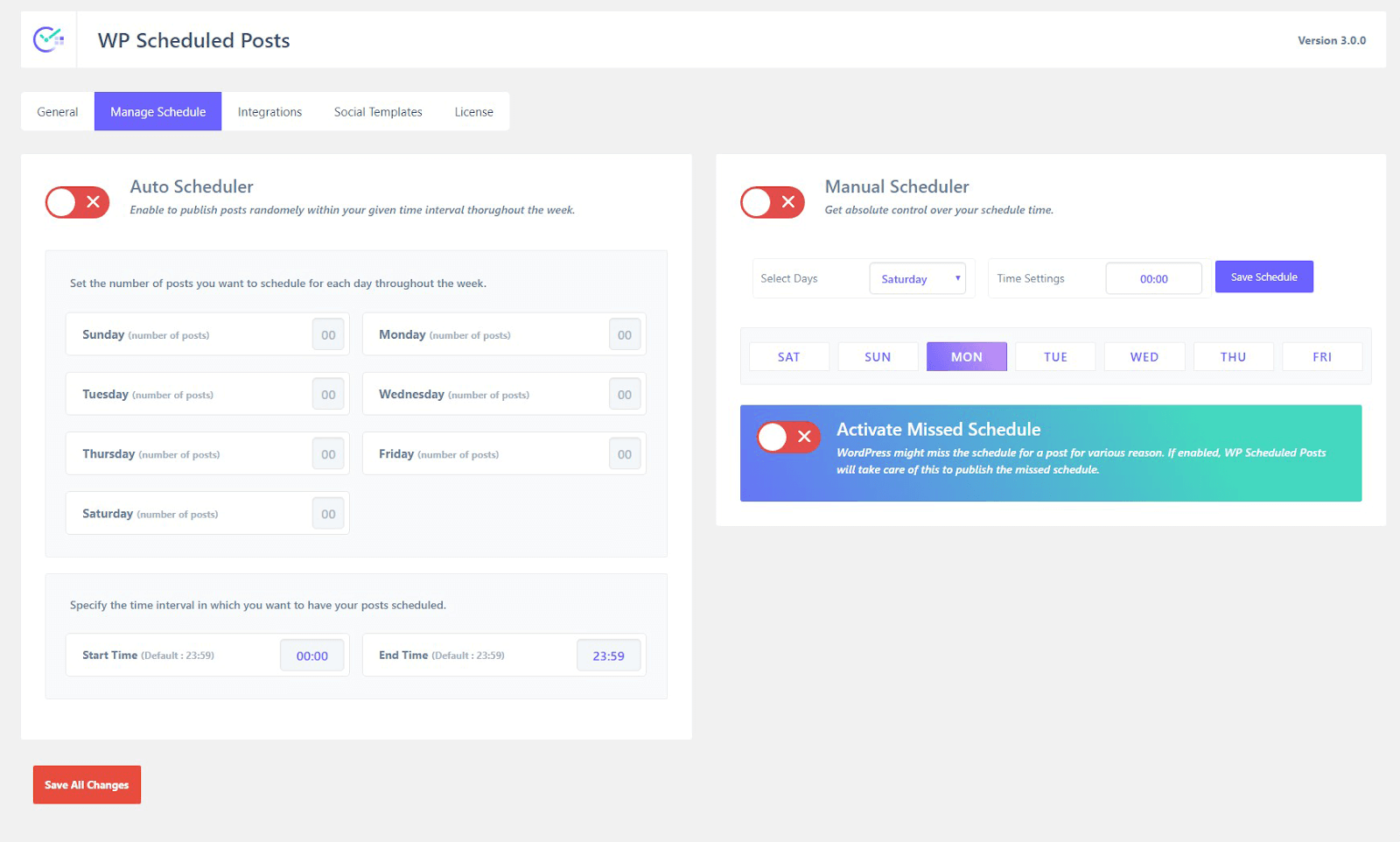 Automate your WordPress content and never worry about missing a post again
Your days of slaving over spreadsheets and setting endless reminders are over.
Now, you can finally take that vacation you've been dreaming about and leave the laptop at home as our social media automation expertise will handle it all being the best WordPress social media automation marketing agency in Pune.