Look Who's Talkin'
Be the first to know what's being said about your brand, product, and competitors
Keeping up with your brand's online presence is a virtual game of whack-a-mole—for every mention you manage, another two (or 200) pop up.
Add to that juggling multiple platforms, websites, and social media profiles, and you've just unlocked the "Master" level of difficulty. One wrong move and it's game over for your brand (no pressure).
In today's multi-channel world, you need a multi-channel player on your team.
Find out who is saying what about you online with real-time email alerts
Get in-depth insights on any brand, competitor, or topic
Track sentiment analysis and understand the tone of conversations you are mentioned in
Brand reputation will make ya or break ya. But in the digital age, it can feel impossible to keep up with who says what, when, and where.
That's why BrandEcho monitors every corner of the Internet to track conversations and mentions around your brand, and your competition's. And we mean every corner: social media, blogs, news, forums, the web, etc. We help you to maintain your digital presence at our digital company - IP Sense consultancy, The Brand Monitoring agency in Pune.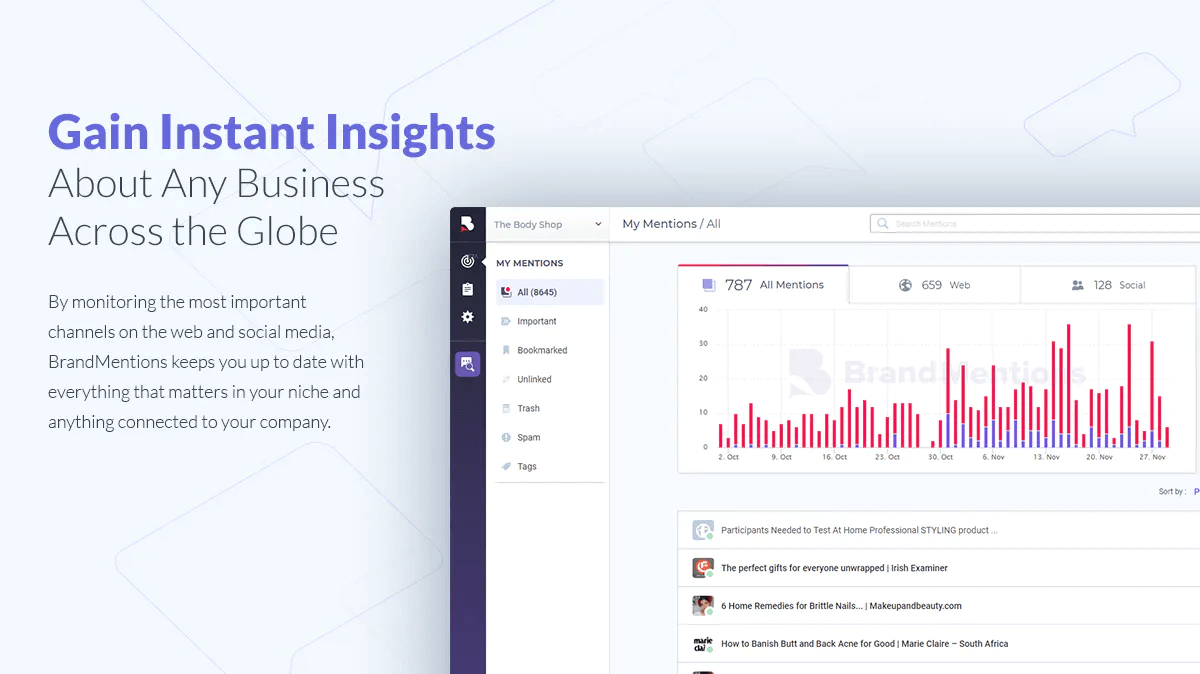 Get market insights about anyone and anything.
Just because people are talking about you, doesn't always mean they're talking to you.
But don't worry, BrandEcho is always listening, so you don't have to.
Monitor the web and social media for direct mentions of your business, track trending topics, and proactively inject your brand into the conversation.
Competitor Spying
Learn how to succeed as the top players in your niche
Analyzing your competitors' strategies isn't just an option. It is a necessary part of your growth strategy. The more you find out about your business and your competitors, the more you learn, adapt, and ultimately flourish.
BrandMentions gives you full access to your competitors' strategies. You can spy on competitors from different angles and have a clear view of where exactly the competition stands.
Identify Missed Opportunities
Analyze Top Players' Mentions
Find Competitors' Weaknesses
Understand Opponents' Strategies
Outrank Your Competitors
Brand Monitoring
Brand monitoring is essential to any business success. By monitoring the most important channels on the web and social media, BrandMentions keeps you up to date with everything that matters in your niche and anything connected to your company.
You get fresh mentions of your brand and your market straight to your inbox. This way you get to know who talks about you and what, at the moment they do it.
Efficient Web & Social Listening
Monitor Brand Performance
Know Your Industry Trends
Instant Alerts on Your Brand
Attract, Acquire & Retain Customers
IPSense Consultancy is an Online Brand Reputation Management Agency in Pune, who is having expertise in SMO designing creative and engaging strategies to maintain the brand's reputation.
Reputation Management
Stay in control of your company's public image
A positive brand reputation builds loyalty and increases customer confidence. BrandMentions helps you shape and stay in control of the public perception of your product and brand.
By always knowing who talks about you and what, you get the power to understand and protect your reputation in a fiercely competitive market.
Take Action Immediately
Instant Alerts
Perform Sentiment Analysis
Customers Feedback 24/7
Engage Your Audience
Media Monitoring
Never miss a beat about your brand and your market
Staying aware of your brand's mentions the moment they appear is critical for any business.
BrandMentions allows you to permanently monitor the web and social media for direct mentions of any business, track trending topics and proactively launch your brand into the conversation.
Make smarter decisions by measuring your business' performance
Real-time Monitoring & Analytics
Grasp the News in Your Industry
Connected with Your Brand 24/7
Key Influencers in Your Niche
Monitor Your Consumer Sentiment
Business Intelligence
Leverage mention data and convert it into actionable information
By having access to everything that is being said about anything, anywhere, you can make faster, better and more informed decisions. BrandMentions empowers you with 24/7 access to actionable data that will help you make the most out of your business.
You can grow your brand by taking advantage of the great opportunities and business insights you will have permanent access to.
Identify market opportunities that will grow your business
Grow Your Audience
Use Influencer Outreach
Improve Customer Care
Upgrade Your Content Marketing
Get High-Quality Links